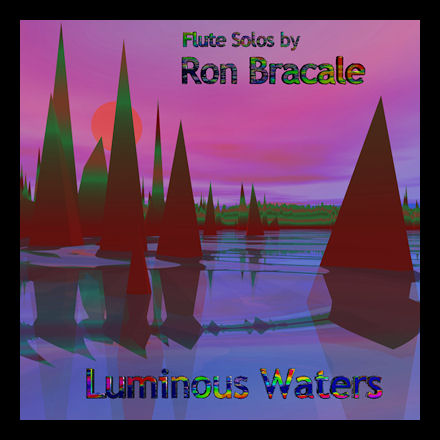 "Music inspired by meditation,
reflecting the healing energy
to calm the inner space and revitalize
the listener's life force."

Spiritual flute solos with the beautiful timbre
of an Arthur Uebel antique soprano flute and
a Gemienhardt silver alto flute. Improvisations on
compositions derived from North Indian Ragas
and Chinese music tempered with Jazz.



Luminous Waters - Remastered:
Luminous Waters - Streaming
---
Cool Cleveland review by Laura Varcho:

If you've been meaning to start a yoga or meditation program but just haven't been able to do it, Ron Bracale's new CD Luminous Waters could be the catalyst you need. A collection of original pieces "derived from North Indian Raga theory, inspired by meditation and tempered with Jazz,"; Luminous Waters showcases Bracale playing an Arthur Uebel antique soprano flute and a Gemeinhart silver alto flute. Listening to the opening track, I was transported, as if by magic, to a peaceful inner stream and began to float as worries, cares and troublesome brain commentary fell away. Mandala-like, these solo flute pieces quickly and effortlessly brought my mind to meditative focus. By the 8th track, I was the snake in this snake charmer's basket, completely mesmerized by his flute. The true testament to the relaxative power of Mr. Bracale's music: it actually made me unclench my jaw.

Ron Bracale has been playing flute for over 30 years. He has studied jazz with Cleveland's own Ernie Krivda, and while living in California, Ron studied North Indian Raga theory with Montino Bourbon. His musicianship reflects the amalgamation of his abiding interest in and love of all types of music. In addition to studying music, Ron has also studied the world's religions. These two passions are brought together beautifully and profoundly in the music he has created on Luminous Waters. Inherent in his music are the origins of North Indian Ragas: communion with the gods and imitation and description of all aspects of natural life.

The solo flute, as played by Mr. Bracale in these compositions, has a compelling, penetrating power. Yet it is gentle, caressing. In this context, it is an optimum meditative tool. Just by listening, one can calm one's mind without having to try, thus becoming one with the flute's musical, liquid flame. With its emotional resonance and advanced uses of rhythm and tonality, this CD will please both the neophyte and the musical master. I am recommending this CD to my reiki master (as well as all my friends) and I know if I had a yoga studio, massage therapy clinic or spa I would be playing Luminous Waters for my clients. Because, true to Ron Bracale's intent, it is music that truly heals, calms and revitalizes the body, mind and spirit.




---